MONTGOMERY PAULSEN

MASTER BLENDER
A second generation winemaker from Napa Valley, Montgomery Paulsen (Monty) is a proud native of the San Francisco Bay Area.
Monty graduated from the prestigious University of California Davis School of Winemaking, with a Bachelor of Science in Fermentation Science. He has spent 25 years winemaking, and managing operations at top wineries in Napa and Sonoma counties including Rosenblum Cellars, Winery Exchange and C. Mondavi & Sons.
Monty's passion for spirits & wine began in the early 1970s at his family's Pat Paulsen Vineyard in Sonoma, where he was active in all areas of his family's business.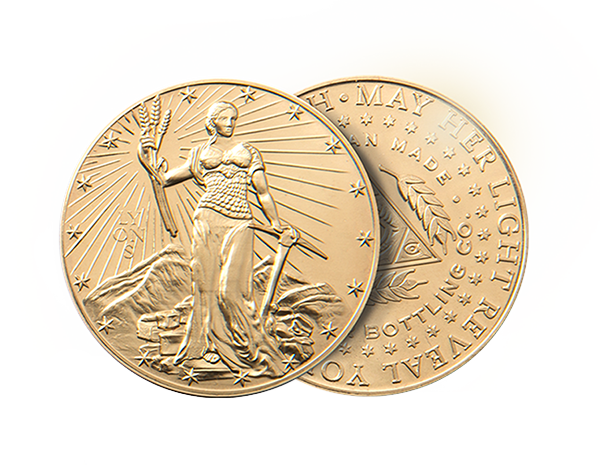 THE LADY OF FORTUNE COIN
Each 750mL glass bottle of GOLD BAR Whiskey features an iconic 'Lady of Fortune' coin. This replica, collector-grade coin is hand-pressed onto each individual bottle. The coin is a symbol of true American craftsmanship and our company history.
Our coins are minted one-by-one at America's oldest operating private mint in the United States. The mint's history dates back to 1835, predating the introduction of the legal tender banknote.
Internationally renowned Californian artist, Steven Noble, designed the Lady of Fortune Gold Bar Whiskey coin at his home studio, in Sonoma County, California. He specializes in the scratchboard medium, which is considered by many to be one of the most difficult artistic mediums to master. This traditional method is used for creating currency and bond certificates and other highly detailed, textured artwork.
GOLD BAR WHISKEY COIN FEATURES
The Lady of Fortune GOLD BAR Whiskey coin featured on all of our bottles is a symbol of good luck and prosperity.
The front of the coin is inspired by renowned heroines of victory. The Lady of Fortune embodies the Californian spirit of entrepreneurship, hard work and determination.
The Lady of Fortune stands in front of the Sierra Nevada Mountains. This mountain range is where the California Gold Rush occurred from 1848 to 1855. The back of the coin features the phrase "may her light reveal your fortune's path."
Featured on her left-side, the rocks and pickaxe represent grit, hard work and effort.
On her right-side, she holds the three harvested grains of GOLD BAR Whiskey: corn, rye and barley, representing the fruits of her labor. She also proudly stands on a precipice of gold bars.
OUR ICONIC GOLD BAR BOTTLE
A truly unique work of art and a striking showcase for your bar, our GOLD BAR Whiskey bottle is made of glass and shaped like a solid gold bar.
Each GOLD BAR bottle is individually numbered with its unique bottle number, blend number and bottle lot displayed on the three foil stamped labels.
The front of the GOLD BAR bottle includes a solid brass collector's grade "Lady of Fortune" coin pressed into the glass.